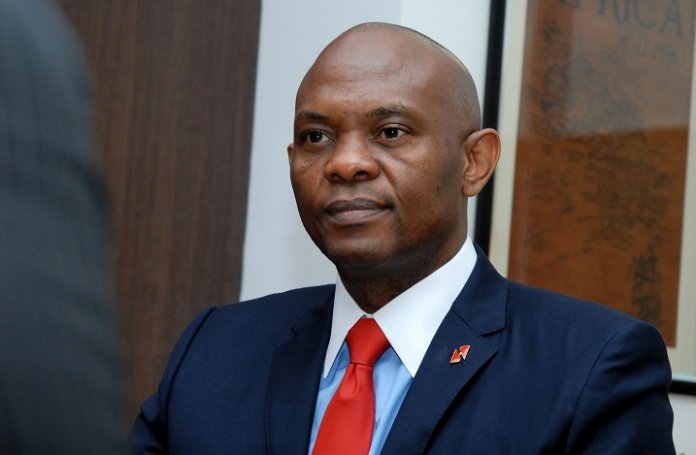 Says multiple taxation, policy inconsistency frustrating young entrepreneurs
Urges US to create more peaceful world by supporting young Africans
Gboyega Akinsanmi
Africa's leading investor and philanthropist, Tony Elumelu has challenged Nigeria and other African states to invest massively in young Africans as an antidote to permanently nip extremism, poverty and unemployment in the bud on the continent.
Elumelu also identified policy inconsistency, multiple taxation, infrastructure deficit and stifling regulatory environment, among others, as core challenges frustrating most businesses and entrepreneurs in Nigeria and other African states.
He made the observation at a session at the Center for Strategic and International Studies (CSIS) in Washington on Thursday as part of his global campaign to seek support for young entrepreneurs in Africa.
Elumelu, Chairman, United Bank for Africa Plc, established a $ 100 million endowment fund, the Tony Elumelu Foundation (TEF) in 2010. The TEF annually supports 1,000 young entrepreneurs across 54 countries of Africa with $ 5,000 non-refundable grant each.
Since its establishment, the foundation has empowered over 16,000 to help beneficiaries across Africa grow their own businesses; become successful entrepreneurs; address poverty through job creation and help propel the world to be a safer place.
With the success the foundation had recorded, the United Nations Development Program (UNDP) supported thousands of young entrepreneurs in Africa; European Union committed 25 million to support 3,000; Japan International Cooperation Agency and African Development Bank funded 1,000 each.
Speaking at a session facilitated by the Director, African Program, CSIS, Mvemba Dizolele, Elumelu explained that with all he had witnessed across all countries on the continent, the future of Africa "belongs to young entrepreneurs."
Even when governments did not prioritize them by creating enabling environment, Elumelu said young entrepreneurs in Africa "have what it takes to succeed if we all prioritize them."
He said: "I have seen in some of the jurisdictions or countries that young Africans lack the necessary government support, not just financial support, but also the enabling environment that can make them succeed.
"I have equally seen that the world is beginning to listen and understand that there are better ways of engagement in the 21st century, better ways of helping to prioritize the young people and better ways of helping to create humanitarian impact."
Elumelu, therefore, observed that effective engagement of young entrepreneurs on the continent "is critical to ending extremism, poverty and unemployment," which according to him, had been a source of grave concern not just to Africa, but also the world.
On the continent, UBA's chairman said unemployment "is a major issue," noting that the people "are feeling the impact of unemployment in Africa outside the continent."
He explained how extremism "is being exported to African countries and people are trying to cross the Mediterranean Sea" daily in attempts to escape grave socio-economic hardship from their countries.
"These young people do not care if they die in the process because they want to go to other parts of the world where they think life is much better than their fatherland. How about helping?
"It is economically cheaper to make the world to make their countries better through entrepreneurship support, giving hope through apprenticeship and other initiatives. The key is not just about investment. But we need to invest more in people. "
He, specifically, asked the American leaders and policy makers "to remember that poverty anywhere in Africa is a threat to all of us. Also, we strongly believe poverty and economic hardship anywhere is a threat to all of us everywhere.
"We have seen how extremism is running across boundaries and countries. So, we cannot isolate prosperity or confine it to one area. It should cut across the continent. In Sierra Leone, Liberia, Nigeria and a few of these countries, we are working together to support young entrepreneurs and governments. "
In Nigeria, for instance, Elumelu disclosed that his foundation "is supporting the government to build capacities for private sector development and provide resources to young entrepreneurs to succeed and create wealth.
"I engage the government in my country, Nigeria. I engage the governments across Africa. I go to African countries and I present the beneficiaries of the Tony Elumelu Foundation Awards to their presidents.
"I tell their presidents that we have done our part as a foundation by giving the beneficiaries non-refundable $ 5,000 each. We have done our part by appointing mentors to help the beneficiaries.
"We also train them, a 12-week training because we realize it is not about capital. Capital must also meet with the minds that are prepared and trained so that they will know how to engage the capital. "
Even though the young entrepreneurs had received 5,000 non-refundable grants from the foundation, Elumelu claimed that the operating environments had been difficult, stifling and suffocating.
He lamented that the businesses of most entrepreneurs on the continent "do not succeed, not because they are not good, but because the operating environments are stifling and difficult.
"We want to engage more people across the world to help our leaders move along the right path. It is not even about infrastructure alone. Policy inconsistency is a huge challenge, "Elumelu explained in response to a question at the CSIS session.
He added that the failure of governments to put the right policy in place and provide good security "is the challenge that undermines entrepreneurship, most importantly, investments across the continent. If we do not fix all these things, we will not go far.
"I know what is good for businesses. I know businesses, to a large extent, need a strong enabling environment, which governments should ordinarily provide. For that partnership between public and private sectors to hold, each part must go to the table with the full realization and understanding of what is required of it.
"The private sector should help the government to create jobs; generate revenues; develop efficient value chains and devise so many things. But the public sector must create the right enabling environment, which includes security, policy consistency and education.
"I think the future of Africa is an efficient public sector and a robust private sector, working together and we will make a difference. We need to see a lot of people succeed in business on the continent. Collectively, it is in our self-interest to make sure that there is prosperity, "Elumelu observed.
Elumelu, therefore, challenged the policy makers and government leaders in the US "to engage African presidents and help understand what is good. Let the US President continue to share experience with African leaders on how things work. "
From formulating policies to granting authorization, Elumelu challenged the US policy makers and lawmakers "to be mindful of the fact that there is a continent of Africa that will not need the kind of assistance that the world gave to Africa before.
"We need people to invest in young Africans. The last mile, the young Africans must feel it, not just to pay consultants full spending and a fraction of that on those who need it. But they need to identify how.
"That is where institutions like the Tony Elumelu Foundation come readily. We have been tested with a lot of things. For me, what is important is to prioritize young Africans, "explained UBA's chairman.